We need to talk about discrimination, bullying and harassment at work
What is this study about?
This study is part of the Tackling Inequalities and Discrimination Experiences in health Services (TIDES) study.
Previous research confirms that discrimination, bullying and harassment does happen in healthcare settings and it directly harms staff morale, productivity, and their mental health and wellbeing.
In the UK-based National Health Service (NHS), these experiences are more common among migrant and racially minoritised healthcare staff groups. These groups are also over-represented in lower paid roles and in formal disciplinary actions and under-represented in senior positions.
In this study, we wanted to better understand:
how the healthcare working environment and culture is experienced by staff and how this affects experiences of discrimination, bullying, and harassment
how and why this environment might lead to poorer experiences for racial and ethnic minority staff groups
what role discrimination, bullying and harassment have in maintaining unfair differences in the workplace environment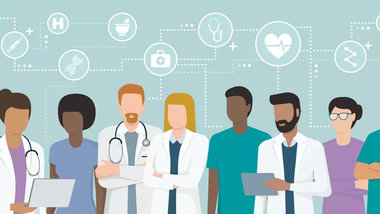 How did they do the study?
The TIDES study team interviewed 46 healthcare staff who were training and working in NHS trusts within London (UK) from January 2019 to February 2020.
This included student nurses/midwives, healthcare assistants, nursing associates, as well as qualified nurses and midwives at different levels of seniority.
In these interviews, researchers asked about staff member's experiences of and witnessing discrimination, bullying, and harassment at work, and about their experiences of career progression and disciplinary action.
The interviews were then analysed using thematic analysis. The researchers:
read and re-read transcripts of the interviews
searched for patterns in responses (how and what was said)
looked for similarities and differences between what the healthcare staff spoke about and how they spoke about them
Working in the NHS can mean operating in a high pressure, complex and challenging environment, with high workloads and short staffing. There is also a social hierarchy for staff working in the NHS that is largely dictated by role and pay grade. Those lower down the hierarchy described feeling less valued, important, respected, as well as having less power and decision-making ability
This working environment affected staff health and well-being directly but also indirectly, by exacerbating discrimination, bullying and harassment behaviours. This affected how people were treated at work, their opportunities for career progression, and how they felt about work
Those interviewed reported that staff from racially minoritised and migrant groups were more vulnerable to experiences of discrimination, bullying and harassment in the workplace. They also reported having to work harder to climb the career ladder, feeling resigned to being unfairly treated, and/or tired of battling the system
They indicated that this was linked to racially minoritised groups being over-represented at lower levels of the hierarchy. Also, to stereotyping (generalisations about the personal attributes or characteristics of a group of people) and prejudice (usually negative attitudes and opinions about someone due to their perceived characteristics)
Interestingly, within teams at similar levels of the hierarchy, we found that discrimination, bullying and harassment occurred. In some teams, staff who were different from their colleagues in terms of race, ethnicity, migration, language or religion did not feel included because of bullying and micro-aggressions
The hierarchy and pressurised environment also affected people's ability and willingness to report and challenge experiences of discrimination, with fears of being labelled a troublemaker, negative effects on career progression, or of upsetting team dynamics ('rocking the boat')
To cope with bullying, prejudice, discrimination and harassment some racially and ethnically minoritised staff reported strategies such as maintaining closer working relationships with those from similar backgrounds, moving teams to somewhere more supportive or leaving the organisation altogether
This diagram was created to illustrate the findings more clearly;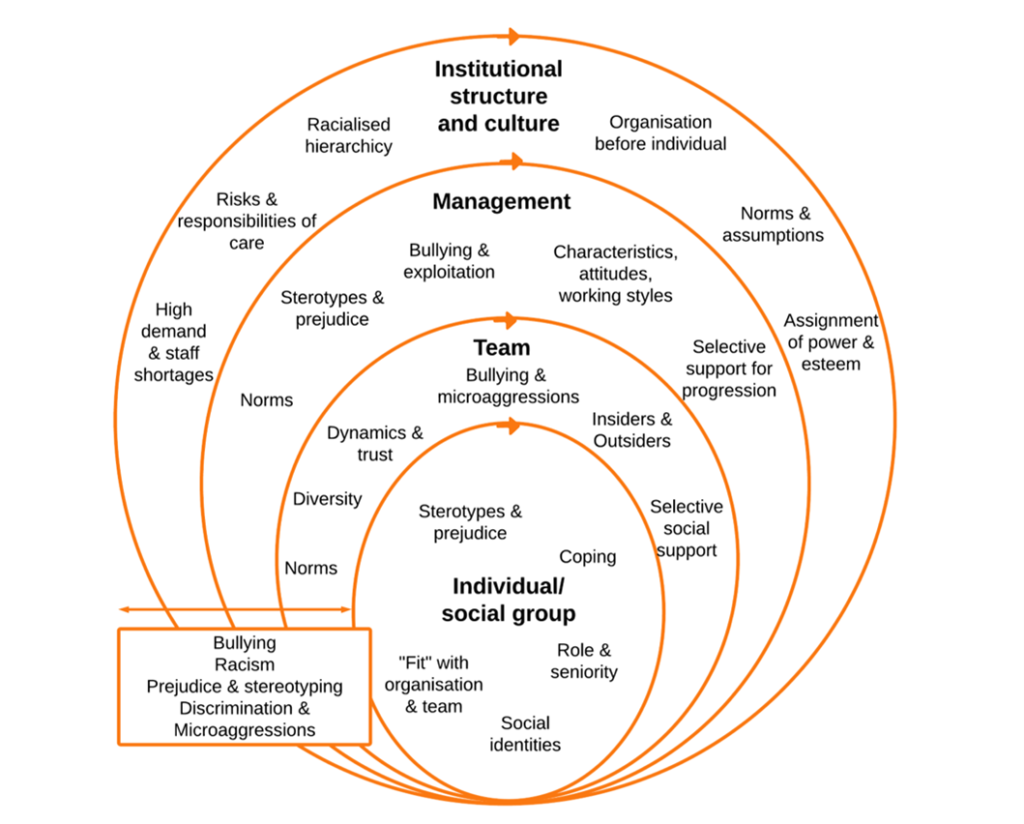 Tell us what you think of this study, make comments, suggestions or feedback to use here
Read the primary paper here
Citation:
Woodhead, C., Stoll, N., Harwood, H., Alexis, O., & Hatch, S.L.; TIDES Study Team "They created a team of almost entirely the people who work and are like them": A qualitative study of organisational culture and racialised inequalities among healthcare staff. Sociology of Health & Illness. 2021;00-000-000. https://doi.org/10.1111/1467-9566.13414
Check out other TIDES publications here